Every Friday, the Yentas want to make like Maria Von Trapp and show you a few of their favorite things. So say "so long, farewell" to other kugel recipes, because this is one that every Jewish wife and bride-to-be should share with her man and their families.
Ingredients:
1 (1 lb) package noodles, cooked and drained
6 eggs, beaten
1 (8 ounce) package of cream cheese
1 & 1/2 lbs cottage cheese
1 (16 ounce) jar applesauce (get the cinnamon-flavored one for extra oomph)
1 cup of golden raisins
1 & 1/2 cups of sugar
nutmeg to taste
cinnamon to taste (if you're like Yenta Alison, you'll use a whole Texas-sized jar of cinnamon!)
1/2 cup melted butter, plus enough to line the 9 x 13 baking dish
Corn Flakes cereal, enough to cover top of kugel
Directions:
Mix drained noodles with eggs, cream cheese, cottage cheese, applesauce, raisins, sugar, nutmeg and cinnamon.
Melt butter in a 9 x 13 baking dish.
Add noodle mixture.
Top with Corn Flakes cereal and cover with desired amount of cinnamon.
Drizzle some leftover melted butter on top.
Cover kugel with foil and bake at 350 degrees for 1 hour.
Uncover and bake 30 minutes longer, but check often to avoid burning.
Remove from oven and let cool.
Serve either warm or refrigerated.
Serves 12-16 depending on size of cuts.
Sounds yummy right? As you prepare to nosh, why don't you wear one of these adorable aprons from Anthropologie! We Yentas love their feminine, vintage kitchen wardrobe. Plus, doesn't everything taste a little better when you're dolled up? If only the aprons could cancel out the calories…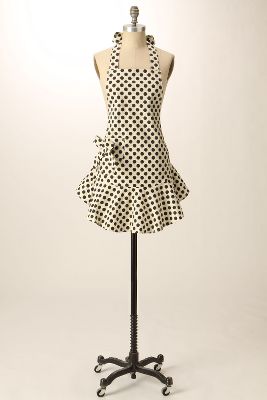 The Lady's Apron, style #983105, $32.00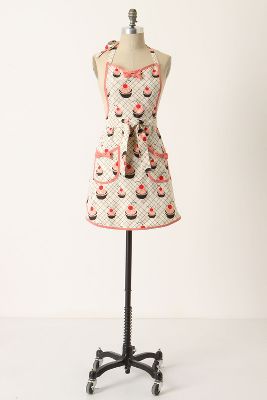 Baker's Delight Apron, style #883111, $32.00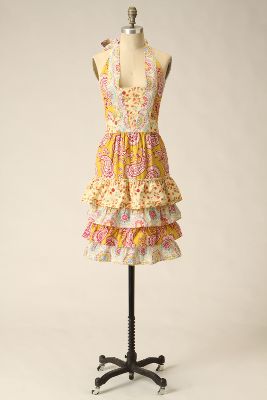 Spring Mix Apron, style #983079, $38.00